Tijdens het online evenement Robotisering bij de overheid stond het thema Robotic Process Automation (RPA) centraal. Maar in de praktische toepassing van RPA gaat het niet meer primair over technologie, maar over het ondersteunen van mensen in hun werkzaamheden. Dan is er geen sprake meer van een robot, AI of algoritmen, maar digitale medewerkers.
In hun keynote bespraken Jos Lindhout en Robert Mekking de stand van zaken op het gebied van RPA bij de overheid. Jos Lindhout heeft onder meer bij de gemeenten Woerden en Schiedam leiding gegeven aan de digitale transformatie. Robert Mekking is directeur van MvR Digital Workforce.
"Wij zien dat de digitale medewerker, die ooit als technologische oplossing is begonnen, steeds meer opschuift in de richting van de organisatie", zegt Mekking. "Daarom spreken we niet meer over robots, AI of algoritmen, maar over de digitale collega. De digitale hulp ontwikkelt bijna een soort van persoonlijkheid. Dat zien we ook terug in de namen die ze krijgen van de mensen die ermee werken."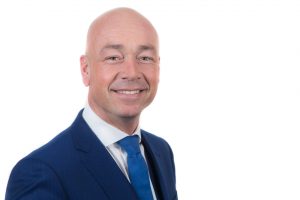 Robert Mekking
Teams
De digitale medewerker wordt ondertussen al volop ingezet.  Mekking: "Dit betekent dat er teams zijn die bestaan uit mensen èn hun digitale collega's. De digitale medewerkers doen het saaie, repetitieve werk, waardoor mensen ruimte krijgen om creatief werk te doen en toegevoegde waarde te leveren. Wanneer je die beweging maakt kun je meer doen met de capaciteit die je hebt. Het betekent ook dat het werk van de medewerkers leuker en waardevoller wordt."
Jos Lindhout heeft de afgelopen jaren intensief kennis gemaakt met die digitale medewerkers. "Eigenlijk is het een stille revolutie geweest. Het is een volwassen technologie die je snel kunt gebruiken. Ik kon zelf ook zo een robotje in elkaar zetten die goed werkte. Ik heb dat bij de gemeenten Woerden geïntroduceerd, zonder dat daar grote investeringen tegenover stonden. We hebben een aantal mensen enthousiast gemaakt door ze zelf op en avond botjes te laten bouwen.
Jos Lindhout
Bottom up
"Met een team van vier mensen zijn we aan de slag gegaan, door ze één dag in de week vrij te maken voor het bouwen van robots. Daar komt nu iedere twee weken een werkende robot uit. Ze hebben bijvoorbeeld een robot gebouwd die het de binnenkomende facturen verwerkt. Bij de gemeente Woerden kwamen twintigduizend facturen per jaar binnen. Met de administratieve controle daarvan waren twee mensen full time mee bezig. Dat wordt nu gedaan door een robot, waardoor nog maar tien procent van de facturen handmatig verwerkt moest worden. Het is bottom up-technologie waar je zonder grote investeringen en zonder veel risico mee aan de slag gaan."
Maar wat betekent dit nu voor de mensen? In het geval van bovenstaand voorbeeld ging het om twee medewerkers die op het punt stonden met pensioen te gaan, hun werk is door de robot overgenomen op het moment dat ze toch weggingen. Mekking: "Aan de ene kant zijn er zeker functies die in de gevarenzone komen. Maar aan de andere kant betekent het ook dat je medewerkers leuker werk kunt geven door ze te upskillen, en misschien kunnen ze zelf onderdeel worden va het ontwikkelen van digitale assistenten."
Zombie-banen
Lindhout: "Soms wordt wel, enigszins denigrerend, gesproken over zombie-banen. Dat is misschien niet helemaal een goede term, maar waar het om gaat is dat er nu eenmaal werkzaamheden zijn die straks niet meer bestaan. Over een aantal jaren zijn volgens berekeningen door onderzoekers 1,6 banen die straks niet meer bestaan. Daar moet je iets mee als organisatie, want hoe ga je hiermee om? En dat gesprek durven we, zeker bij de overheid, eigenlijk niet aan te gaan."
"Toch zie je dat er functies zijn die over drie tot vier jaar niet meer bestaan. Bij de gemeente Schiedam gaat het bijvoorbeeld over tien procent van de 600 banen. Het is een serieuze uitdaging, war we het gesprek niet over aan durven gaan. Je moet als organisatie nadenken over de manier waarop je ermee omgaat, negeren is geen optie. De kracht van het inzetten van digitale technologie is dat je dergelijke ontwikkelingen bij de bron kunt aanpakken."
Zie ook: