UiPath
RPA-leverancier UiPath is een van de snelst groeiende softwarebedrijven ter wereld. Voor zowel bedrijven als overheden nemen de virtuele medewerkers van UiPath de fysieke medewerkers saaie en repetitieve taken uit handen, zodat zij zich bezig kunnen met leukere taken die daadwerkelijk waarde toevoegen.
Women in AI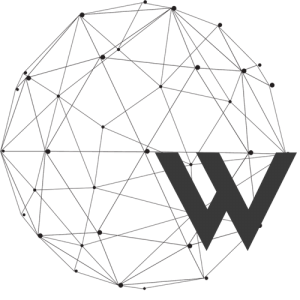 Rocking Robots werks samen met Women in AI,  een non-profit wereldwijde do-tank met een missie om de vrouwelijke vertegenwoordiging en participatie op het gebied van kunstmatige intelligentie (AI) te vergroten.
Digital Insurance Agenda (DIA)
DIA is initiated by Reggy de Feniks and Roger Peverelli and is missioned to accelerate innovation by connecting insurance executives with insurtech leaders. Both hold a 20+ year track record in strategy and digital innovation for blue chip financial institutions, including board and advisory positions at insurance start-ups, fintech companies and investors.
Roger and Reggy are the authors of the international bestsellers 'Reinventing Financial Services' and 'Reinventing Customer Engagement' which sold more than 100,000 copies in eight languages worldwide. In the position of industry experts, they spoke at many conferences and in boardroom sessions around the globe. In subsequent discussions they learned that there is a great need to connect insurance executives and change agents to insurtech leaders, in an efficient and effective way. In order to tap right into that need, they created DIA.
Looking at the current insurtech events that are taking place, Reggy and Roger noticed the industry was ready for something totally different from the ordinary. They designed DIA as a superb quality event: far more interesting and appealing than everything else out there. The combination of a ground-breaking program, supreme audience and fine ambience, makes DIA the single most important event to get inspired and do business. All 50+ insurtechs and thought-provoking keynotes are personally selected by Reggy and Roger. The cutting edge format allows guests to really experience the innovations that shape the future.
Rocking Robots werkt op het gebied van actuele content samen met RPA Nederland, het onafhankelijke kennisplatform voor het bevorderen van Robotic Process Automation in de Nederlandse markt.
The Future of Business Technology
Nationale RPA Monitor 2020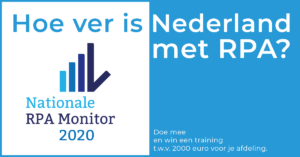 Steeds meer organisaties overwegen automatisering van repetitieve processen, Robotic Process Automation (RPA). Er zijn ondertussen al een aantal aansprekende voorbeelden, zoals KLM en ING. Maar hoe ver is Nederland daadwerkelijk met RPA? Daar zijn nog geen cijfers over bekend. Daarom is de Nationale RPA Monitor 2020 van start gegaan, het eerste landelijke onderzoek dat een betrouwbaar en objectief beeld geeft van de adoptie van RPA in Nederland. Rocking Robots is mediapartner bij dit onderzoek,en zal onder meer tijdens het event Smart Bots, better Business/The Future of Business Technology de resultaten presenteren.