Sarcos Defence, onderdeel van Sarcos Robotics, heeft een contract getekend met het US Marine Corps Logistics Innovation Office voor de levering van de Guardian XO full-body exoskeleton robot. De levering staat gepland voor eind 2020.
Het US Marine Corps werkt aan modernisering van de logistiek, met duurzaamheid als een van de prioriteiten. Als onderdeel van de visie op flexibele Expeditionary Advanced Basing Operations (EABO) ter ondersteuning van operaties, zal de Guardian XO Alpha-inzet getest worden om de logistiek efficiënter te maken, met minder mensen, en de doorvoersnelheid te verhogen.
CES
De Guardian XO Alpha werd eerder dit jaar geïntroduceerd op de Consumer Electronics Show (CES) 2020. Het ontving diverse onderscheidingen op CES, waaronder Top Emerging Technology door Digital Trends, Best Robot door PCMag.com, The Best Ideas and Products of CES door VentureBeat en de robot werd door WIRED Magazine genoemd als een van de slimste technologieën op de beursvloer.
Zware taken verminderen
"Het Sarcos Defense-team is erg blij dat het Amerikaanse Korps Mariniers dit jaar use-cases voor onze Guardian XO Alpha-versie gaat testen", aldus Ben Wolff, CEO van Sarcos Defense. "Onze militaire afdelingen moeten regelmatig veranderende personeelsproblemen aanpakken en het risico op letsel door het uitvoeren van zware taken verminderen. We geloven dat onze full-body, aangedreven exoskeletten een enorm voordeel zullen zijn voor zowel de mariniers als de Amerikaanse luchtmacht, de Amerikaanse marine en USSOCOM, met wie we ook werken aan onze exoskelettechnologie. "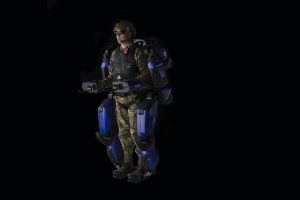 Oud-militairen
Sarcos Defence, gevestigd in Salt Lake City, Utah, is een volledige dochteronderneming van Sarcos Robotics, leverancier van geavanceerde robotica ontworpen om levens te redden en letsel te voorkomen. Sarcos Defense wordt geleid door een team van Amerikaanse oud-militairen die de huidige en toekomstige bedreigingsomgeving begrijpen en in staat zijn om oplossingen te leveren die voldoen aan de behoeften van het moderne leger. In samenwerking met het Amerikaanse ministerie van Defensie en andere federale en internationale overheidsinstanties zoekt Sarcos Defence hiaten in de capaciteit om gespecialiseerde, missieklare oplossingen te ontwikkelen.