Gartner heeft vandaag de Hype Cycle for Emerging Technologies 2020 gepubliceerd, met dertig 'onmisbare technologieën'. Diverse vormen van AI en machine learning komen op verschillende plekken in de curve voor. Formatieve AI en vertrouwen in algoritmen zijn opgenomen in de vijf opkomende technologietrends.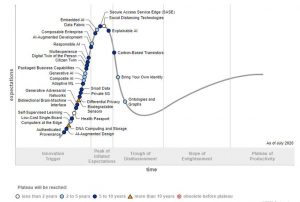 "Opkomende technologieën zijn van nature disruptief, maar het concurrentievoordeel dat ze bieden is nog niet goed bekend of bewezen in de markt. De meeste zullen meer dan vijf jaar nodig hebben, en sommige meer dan 10 jaar, om het Plateau van Productiviteit te bereiken. Maar sommige technologieën in de Hype Cycle zullen op korte termijn volwassen worden en leiders op het gebied van technologie-innovatie moeten de mogelijkheden van deze technologieën begrijpen, vooral die met transformationele of grote impact ", aldus Brian Burke, vice-president onderzoek bij Gartner.
COVID-19
Gezondheidspaspoorten en technologieën voor social distancing, beide sterk gerelateerd aan de COVID-19-pandemie, volgen nu de hype-cyclus in een stroomversnelling en hebben een grote impact. Technologieën komen zelden binnen in de Hype Cycle op het punt waar technologieën voor social distancing erin zijn gekomen, maar deze technologie heeft buitengewone aandacht gekregen in de media, voornamelijk vanwege privacyproblemen.
Gezondheidspaspoorten zijn ook ongebruikelijk omdat technologieën met een marktpenetratie van 5-20% zelden worden meegenomen in de hypecycle. Maar deze technologie, die nodig is voor toegang tot openbare ruimtes en vervoer in China (Health Code) en India (Aarogya Setu), wordt gebruikt door honderden miljoenen mensen in die landen. Beide technologieën zullen naar verwachting in minder dan twee jaar het plateau van productiviteit bereiken. "
De Hype Cycle for Emerging Technologies is uniek onder de meeste Gartner Hype Cycles omdat het inzichten uit meer dan 1.700 technologieën verzamelt in een beknopte set van 30 opkomende technologieën en trends. Deze hype-cyclus richt zich specifiek op de reeks technologieën die veelbelovend zijn in het leveren van een hoog concurrentievoordeel in de komende vijf tot tien jaar.
Vijf opkomende technologietrends
Digital me – Technologie wordt steeds meer geïntegreerd met mensen om nieuwe kansen te creëren voor digitale representaties van onszelf, zoals digitale paspoorten en technologieën voor social distancing. Digitale tweelingen van mensen bieden modellen van individuen die mensen kunnen vertegenwoordigen in zowel de fysieke als digitale ruimte. De manier waarop mensen omgaan met de digitale wereld gaat ook verder dan schermen en toetsenborden om een ​​combinatie van interactiemodaliteiten te gebruiken (bijv. Stem, visie, gebaren) en zelfs onze hersenen direct te veranderen.
De technologieën om in de gaten te houden omvatten technologieën voor sociale afstandsverdeling, gezondheidspaspoorten, digitale tweeling van de persoon, burger-tweeling, multiexperience en 2-Way BMI (brain machine interface).
Samengestelde architecturen – De samengestelde onderneming is ontworpen om in te spelen op snel veranderende bedrijfsbehoeften met verpakte zakelijke mogelijkheden die zijn gebaseerd op een flexibele datafabric. Een samengestelde architectuur wordt geïmplementeerd met oplossingen die zijn samengesteld uit verpakte zakelijke mogelijkheden. De ingebouwde intelligentie is gedecentraliseerd en strekt zich uit naar randapparatuur en de eindgebruiker.
Om een ​​meer flexibele organisatie te worden, moeten de volgende technologieën worden gevolgd: composable enterprise, packaged business-mogelijkheden, datafabric, privé 5G, embedded kunstmatige intelligentie (AI) en goedkope single-board computers aan de rand.
Formatieve AI – Dit is een opkomende vorm van AI, met gerelateerde technologieën die dynamisch kunnen veranderen om te reageren op situationele variaties. Sommige van deze technologieën worden gebruikt door applicatieontwikkelaars en UX-ontwerpers om nieuwe oplossingen te creëren met behulp van AI-enabled tools. Andere technologieën maken de ontwikkeling mogelijk van AI-modellen die dynamisch kunnen evolueren om zich in de loop van de tijd aan te passen. De meest geavanceerde kunnen geheel nieuwe modellen genereren die gericht zijn op het oplossen van specifieke problemen.
Ondernemingen die de grenzen van AI willen verkennen, moeten AI-ondersteund ontwerp, AI-augmented development, ontologieën en grafieken, kleine data, samengestelde AI, adaptieve ML, zelfsturend leren, generatieve AI en generatieve vijandige netwerken overwegen.
Vertrouwen in algoritmen– Vertrouwensmodellen gebaseerd op verantwoordelijke autoriteiten worden vervangen door algoritmische vertrouwensmodellen om de privacy en veiligheid van gegevens, de bron van activa en de identiteit van individuen en dingen te waarborgen. Algoritmisch vertrouwen helpt ervoor te zorgen dat organisaties niet worden blootgesteld aan het risico en de kosten om het vertrouwen van hun klanten, werknemers en partners te verliezen.
Opkomende technologieën die zijn gekoppeld aan algoritmisch vertrouwen zijn onder meer Secure Access Service Edge (SASE), differentiële privacy, geverifieerde herkomst, uw eigen identiteit meenemen, verantwoorde AI en verklaarbare AI.
Meer dan silicium – Al meer dan vier decennia is de wet van Moore (het aantal transistors in een dichte geïntegreerde schakeling (IC) verdubbelt ongeveer elke twee jaar) de IT-industrie. Nu technologie de fysieke grenzen van silicium nadert, creëren nieuwe geavanceerde materialen baanbrekende mogelijkheden om technologieën sneller en kleiner te maken.
Kritische technologieën waarmee rekening moet worden gehouden, zijn onder meer DNA-computing, biologisch afbreekbare sensoren en op koolstof gebaseerde transistors.