Een digitaal evenbeeld van de Tour de France dat het evenement tot een 'mobiel stadion' maakt voor fans wereldwijd. Dat is wat ICT-aanbieder NTT Ltd. met ASO heeft ontwikkeld. Deze organisator van 's werelds bekendste wielerronde haalde in 2014 NTT Ltd. binnen om de Tour te digitaliseren. Dit fundament leidde in 2021 tot een nieuwe sprong voorwaarts volgens Peter Gray, van NTT. Er werd een digital twin gemaakt van het volledige evenement met technologie zoals IoT, AI, edge computing en realtime analytics. "De Tour de France is een voorloper als het gaat om het verbeteren van de fan-ervaring door digitalisering", vertelt Gray. "Maar wat we hier hebben ontwikkeld, kan bedrijven in elke sector vooruit helpen."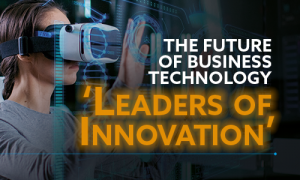 Peter Gray heeft plezier in zijn functie van Senior Vice President, Advanced Technology Group bij NTT Ltd.. Hij mag aan de wieg staan van menig nieuwe toepassing, ontwikkeld met behulp van zowel bewezen als nieuwe technologieën. "Wij beantwoorden de vraag hoe NTT nieuwe en opkomende technologieën tot leven kan brengen en kan verspreiden door de hele organisatie, zodat we op basis van die technologie praktische toepassingen kunnen leveren."
Sport is volgens Gray een geweldige sector om te experimenteren met nieuwe toepassingen of combinaties hiervan. Zo is Gray met zijn team ook betrokken bij eSport organisator Swift, werken zij met de UEFA, met Indycar in de VS en met de Britse en Duitse Open Golf. "Sport is meer open om nieuwe technologie uit te proberen en de grenzen ervan te verleggen, mede omdat het een zeer prestatiegerichte omgeving is. Voor ons een mooie incubatieomgeving waarvandaan we technologie en toepassingen kunnen vertalen naar andere sectoren."

Dataverzameling
Bij de Tour de France had Gray het geluk vanaf het begin van de gezamenlijke reis in 2015 – toen nog als Dimension Data – betrokken te zijn als technologiepartner. Tot dan vond dataverzameling nog handmatig plaats, via time capture, via radiocontact, via het tijdsysteem dat de start- en finishtijden verzamelde. Alle updates voor de organisatie en de fans vonden handmatig plaats. Niet de juiste uitgangspositie voor de gemiddelde fan, die veel meer wilde weten wat er op bepaalde momenten in een etappe gebeurde en dit ook direct wil weten."
In 2015 maakte ASO dan ook een enorme sprong voorwaarts: digitalisering van alles dat met het verzamelen, verwerken en tot informatie verwerken van (veel meer) data te maken had, die realtime werd binnengehaald via bijvoorbeeld IoT-sensors op racefietsen. Dat leverde onder meer op elk moment de snelheid van elke deelnemer op.
Digitale afspiegeling
Met zo'n digitale afspiegeling van een etappe opende zich een wereld aan mogelijkheden, merkte Gray. "Opeens konden we realtime aangeven welke renner met welke snelheid fietste, wat de tijdgaten waren tussen groepen en groepjes, of tussen koploper en achtervolgers, welke wielrenner in welke groep zat. Voorheen was het alleen mogelijk om wielrenners die in het zicht van een camera waren op die manier te volgen."
Al die data kon op diverse manieren verwerkt worden om kijkers naar de Tour de France, of mensen die de race via social media volgden, die digitale afspiegeling van de race te tonen. Eerst nog vooral via allerlei grafieken, maar al snel interactief. Zo konden mensen gedurende de race hun favoriete wielrenner of team in realtime volgen, of wat ze dan ook wilden zien – bijvoorbeeld elke wielrenner uit een bepaald land.
Sprong in het diepe
De samenwerking tussen NTT en ASO viel volgens Gray halverwege een sprong in het diepe en bouwen op bewezen technologie. De visie die ASO had op een betere fan-ervaring via digitalisering, verschilde enorm met hoe het tot dan toe gegaan was. Alle bouwblokken waren er. IoT kon al de gewenste informatie verzamelen. Er waren realtime streaming- en analytics platforms en er waren API's voor integratie van toepassingen in bijvoorbeeld tv-systemen. Maar niemand had eerder alles bij elkaar gevoegd in één grote visie. Dus er was sprake van veel experimenteren – samen met ASO, met mediapartners – om alles technisch te laten werken."
Techniek is één ding, maar nog belangrijker was het om alle toepassingen het meest effectief en interessant voor alle fans te maken. Het is niet een goede technische oplossing die uiteindelijk de mate van succes bepaalt. Dat doet de mate waarin fans meer informatie krijgen, zich meer bij de Tour de France betrokken worden, hoe je mensen met weinig kennis over de Tour de France inzicht geeft in hoe deze race in elkaar zit. Maar ook hoe je jongere doelgroepen bereikt die niet of minder tv kijken.
Andere doelgroepen
Vanuit toepassingen voor de fans – voor ASO dé prioriteit – is data ook te gebruiken voor commentatoren en de organisatie zelf. Tegenwoordig wordt de hele etappe uitgezonden, maar op vrij lange stukken gebeurt er niet veel. Commentatoren kunnen met informatie gevoed worden om daarmee het publiek betrokken te houden.
"Ook de raceteams kunnen de data gebruiken om te zien hoe de Tour zich ontwikkelt en daarmee anticiperen op de komende etappes. En ze kunnen de realtime informatie gebruiken hun eigen wielrenners mee te voeden, bijvoorbeeld om ervoor te zorgen dat ze binnen een tijdslimiet binnenkomen. Dat waren toepassingen waar we zelf niet aan gedacht hadden, maar die er toch uit voortkomen."
Nieuwe inzichten
In de jaren die volgden, bouwden NTT en ASO alle nieuwe datasets uit, wat steeds meer analytics-capaciteit gaf, zeker als je er AI-toepassingen op loslaat die allerlei vergelijkingen en voorspellingen kunnen maken. "Zo ontstonden nieuwe inzichten in de race en in de renners. Denk aan historische profielen van elke wielrenner, om te voorspellen welke deelnemer in welk deel van het parcours goed zal presteren of juist niet. Of hoe groot de kans is dat een ontsnapping van een wielrenner op een bepaald punt in de etappe succes zal hebben."
Met dit fundament werd besloten om in 2021 een nieuwe sprong voorwaarts te maken, vertelt Gray. "De afgelopen jaren hebben we een digitale afspiegeling gemaakt van de race met informatie over en van de renners. Dit jaar hebben we ons gericht op het digitaliseren van het hele evenement. Ook daarbij gebruiken we een mix van bewezen en nieuwere technologie. Zo maken we van de Tour de France een mobiel stadion dat meebeweegt met de etappes. Het is een zeer dynamische omgeving die elke dag verandert.
Verbreden mogelijkheden
Het verbreden van de mogelijkheden met de beschikbare data is bedoeld voor mensen thuis, maar zeker ook voor de vele fans aan de kant van het parcours die vaak uren op de renners wachten. Zij kunnen nu gevoed worden met historische, realtime en voorspellende informatie over parcours, etappe en wielrenners. Of een dynamische routekaart krijgen op basis van planningsdata, IoT en data analytics die op elk moment geupdated wordt met etappe-gerelateerde informatie.
"We verwachten hier de komende jaren weer veel nieuwe mogelijkheden uit te halen voor fans", stelt Gray. "We hebben een lijst van ideeën en concepten. Elk jaar vernieuwen we die lijst, dus zul je ook mogelijkheden erbij zien komen of zien wegvallen. Dat is de gezamenlijke ambitie van NTT en ASO: van de Tour de France het digitaal meest geavanceerde sportevent te maken."
Verder kijken
NTT kijkt verder dan de Tour de France om alle slimme toepassingen uit te rollen, of zelfs naar andere sectoren. "Zo worden slimme toepassingen en platforms die we hebben ingezet bij de Tour gebruikt in Las Vegas, om daar de veiligheid in de stad te verbeteren. Maar ook in Melbourne, waar OV-bedrijven het inzetten om te kijken waar er sprake is van te veel mensen bij elkaar. Zeker in de coronatijd was en is dat belangrijk."
Verder worden data capture toepassingen uit de Tour gebruikt voor bijvoorbeeld trainingssimulaties. "In Australië hebben we met een universiteit een toepassing voor de brandweer ontwikkeld, met VR-bril, brandslang en vest met sterke haptische feedback, voor een realistische trainingsomgeving. Met het realtime streaming-informatieplatform dat we voor de Tour gebruiken, kunnen we via kleding met sensors inventariseren hoe een brandweerman of -vrouw reageert op wat er in de VR-wereld gebeurt, zoals fysiologische reacties."
Andere wereld
Een compleet andere wereld, met compleet andere gebruikstoepassingen voor oplossingen uit de sportwereld, weet Gray. "Maar dat is het geweldige van innovatie. Door out of the box te denken, kun je samen met organisaties tot toepassingen komen waar niemand eerder aan gedacht heeft, in sectoren waar je nooit aan gedacht hebt."