Het grootste IT-evenement ter wereld, Dreamforce, is afgelast. In november zou dit jaarlijkse evenement weer plaatsvinden in San Francisco, maar door de coronacrisis heeft Salesforce aangekondigd dat alle fysieke evenementen voor dit jaar van de baan zijn. Er komt volgens Salesforce een virtueel evenement voor in de plaats. Voor San Francisco is dit een forse klap, want de 170.000 bezoekers droegen ieder jaar voor ongeveer 150 miljoen dollar bij aan de lokale economie.
Vorig jaar maakte Rocking Robots deze reportage over Dreamforce.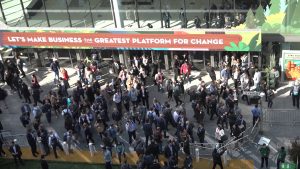 Op social media plaatste Salesforce deze verklaring:
At Salesforce, our events have always been a special opportunity for us to come together with our global community to share best practices and innovations.
As the COVID-19 situation continues to evolve, our first priority is to help ensure the health and safety of our customers, partners, employees and communities. With this in mind, we have decided to reimagine our events through the end of the year in new and virtual ways. This will be true for all events, including Dreamforce, Tableau Conference 2020, Tableau Conference Europe, TrailheaDX India and our World Tours.
As we've done with other events, we'll continue to create innovative digital experiences for our ecosystem. For example, we turned our World Tour Sydney into a virtual event in March, taking what is typically an 11,000-person event into one viewed by 80,000 people. We're looking forward to building on that success over the coming months.
We will miss bringing everyone together in person, but we are excited to shape our virtual events in ways that bring all of the fun, innovation, and learning to our dedicated community of Trailblazers.