Zorgorganisatie Philadelphia onderzoekt hoe sociale robotics ingezet kunnen worden om mensen met een verstandelijke beperking te ondersteunen. De (in 2016 uit Japan geïmporteerde) sociale robot Phi is daarom de afgelopen tijd bij 14 cliënten twee weken gaan 'logeren'.
Resultaten robot Phi
Uit een eerste praktijkonderzoek van Philadelphia – dat vandaag gepresenteerd is – blijkt dat de eerste resultaten veelbelovend zijn. Zo schrijft Philadelphia dat er 'goede indicaties zijn dat sociale robotica de zelfredzaamheid van cliënten kan vergroten. Verschillende cliënten geven aan zich minder vaak eenzaam te voelen en meer plezier te hebben in het leven.
Daarnaast zegt meer dan de helft van de cliënten dat Phi hen geholpen heeft met dingen die normaal gesproken door begeleiders worden gedaan. De cliënten vertellen dat Phi hen herinnert aan zaken die ze snel vergeten. Denk bijvoorbeeld aan het innemen van medicijnen en huishoudelijke taken.
Begeleiders geven aan dat de robot door de cliënten als een maatje wordt gezien. In vervolgonderzoek wil Philadelphia verder bekijken of de robot een vriend/ maatje kan zijn voor de cliënt en/of een assistent-begeleider. Een deel van de begeleiders ziet ook een rol voor Phi weggelegd in het signaleren en observeren van een cliënt.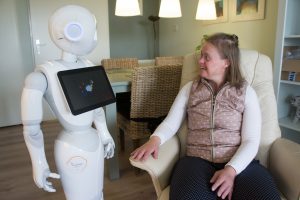 Sociale robotica in de Nederlandse zorg
Philadelphia doet al jaren onderzoek naar innovatie in de zorg via de inzet van sociale robotica. Dit doet Philadelphia in samenwerking met The Innovation Playground. Het doel van de onderzoeken is om te kijken hoe sociale robotica cliënten kan helpen zelfstandiger hun leven te leven, waarbij zij meer eigen regie hebben.
Daarnaast ziet Philadelphia kansen om een hogere kwaliteit van zorg te leveren én speelt de organisatie in op toekomstige personeelstekorten in de zorg. Omdat Philadelphia zag dat er nog maar weinig praktisch onderzoek was gedaan naar sociale robotica, zetten zij juist in op het ervaringsgericht werken.
Hoe werkt Phi?
De 'standaardmogelijkheden' van Phi (zoals hij uit de fabriek komt) sluiten nog niet aan op de behoeften die er spelen in de Nederlandse zorg, stelt Philadelphia. Daarom wordt Phi voorzien van interactieve, op maat gemaakte software. Deze zelflerende software gaat steeds beter functioneren door te leren van praktische situaties.
Philadelphia schrijft in het verslag dat zij het als uitdaging zien om de robots te personaliseren per cliënt. Dat betekent dus dat de robots verschillende dingen leren, omdat de interactie met iedere cliënt anders verloopt, en iedere cliënt andere communicatie nodig heeft.
Het leerproces van de robot vindt plaats op het Robot Ctrl platform. De robot is rechtstreeks verbonden met dit platform.
Vervolgstappen
De komende tijd gaat Philadelphia verder met het onderzoeken van de mogelijkheden van de inzet van Phi. Er zullen meer 'logeer' afspraken zijn met cliënten. Daarnaast heeft Philadelphia de ambitie om het Robot Ctrl platform uit te laten groeien tot 'het digitale hart van alle activiteiten van Philadelphia op het gebied van sociale robotica'.