Innovatiemanagers en automation-beslissers kunnen zich nu gratis inschrijven voor de vierde editie van The Future of Business Technology / Leaders in Innovation. Dit event vindt op donderdag 7 oktober plaats tussen 16.00-20.30 uur in Pathé theater Leidsche Rijn in Utrecht. Het Thema is 'Data & AI', waarover diverse gastprekers hun visie en kennis delen. Inschrijven kan op deze link.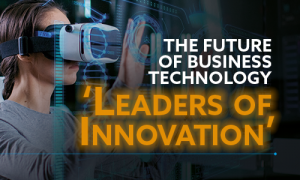 Op 7 oktober staat het thema data & AI centraal tijdens het event Future of Business Technology, 'Leaders of innovation' dat zal plaatsvinden in Pathé theater Leidsche Rijn in Utrecht, onder de dan geldende COVID-19 regels. Onder leiding van dagvoorzitter en moderator Danny Frietman zijn er diverse interessante keynotes, van onder andere Gartner analist Pieter den Hamer, die de laatste trends rond Data en AI belicht.
CIO Panel
Danny Frietman gaat in een CIO Innovatie panel in gesprek met IT-leiders waaronder Vopak CIO Leo Brand, CBR CIO Bob van Graft en Jean Louis Colen, RPA Program Manager bij Vattenfall.
AI
Verder zal Irakli Beridze, directeur van het United Nations Interregional Crime and Justice Research Institute (UNICRI), ingaan op de manier waarop criminelen gebruik maken van AI. Ook worden Nederlandse AI innovaties belicht met sprekers van onder andere Techleap.nl en de Nederlandse AI Coalitie.
F1 autocoureur Jan Lammers
Jan Lammers, autocoureur en Sportief Directeur Dutch F1 Grand Prix Zandvoort, sluit de dag na een walking diner af met een presentatie over de combinatie van tech en Formule 1.
Het event is uitsluitend toegankelijk voor automation decision makers. Inschrijven kan via deze link.
Lees hier het openingsartikel:
Over innovatie en citizen developers: