De komende vijf tot tien jaar vindt in veel sectoren een flinke consolidatieslag plaats. Een deel van de middelgrote bedrijven zal worden overgenomen of niche-speler worden, verwacht Anton Loeffen, oprichter van cloud service provider Eshgro. "IT is al een cruciaal onderdeel van alle back- en frontoffice processen. Het wordt een noodzakelijke enabler om uit goed toegankelijke data inzichten te halen om die processen beter en geautomatiseerd aan te sturen. Als je dat niet op orde hebt, dan zul je niet mee kunnen gaan met concurrenten, laat staan je business innoveren."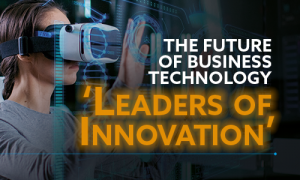 Eshgro is al 20 jaar actief in wat tegenwoordig 'de cloud' heet. De cloud service provider bedient volgens oprichter Anton Loeffen alles tussen 5 en 5.000 gebruikers. Voor zijn klanten is Eshgro verantwoordelijk voor ofwel de complete IT-omgeving, ofwel alle bedrijfskritieke elementen van die omgeving.
Hiervoor heeft Eshgro Smarter 365 ontwikkeld. Dit platform stelt klanten in staat om secure en compliant zelf én samen met Eshgro eenvoudig en veilig de IT-omgeving en bedrijfskritieke applicaties daarbinnen te beheren. Smarter 365 biedt beheers- en inzichtmogelijkheden om de IT-omgeving en applicaties sneller, eenvoudiger en veiliger te gebruiken.
"Basis daarbij is voor de klant niet de gebruikte technologie, maar de business requirements", stelt Loeffen. "Wat heb ik nu en wat heb ik nodig om mijn business a) goed te doen en b) beter te doen. Een klant moet bij wijze van spreken aan allerlei schuifjes kunnen trekken op het platform voor een optimale mix van hulpbronnen en inzichten."
Iedereen zit al in de cloud
Hoewel de cloud nog geen gemeengoed is, is er eigenlijk geen enkele organisatie die alles nog on premise doet, stelt Loeffen. Dat zou bij wijze van spreken betekenen dat geen enkele medewerker een smartphone heeft of LinkedIn gebruikt. Dat was wel anders in 2004, toen Eshgro als aanbieder van server based computing (SBC) van start ging.
"De weg naar de cloud weten de meeste organisaties inmiddels wel te vinden. Het is, zwart-wit gezegd, niet meer dan de server van een ander gebruiken. Maar zeker voor middelgrote bedrijven is het eigenlijk niet meer te doen om alle IT zelf te beheren. Uitbesteden is een must geworden, wil je een IT-omgeving kunnen gebruiken in je voordeel, in plaats van dat het een last voor je is. Zoals bij ons de focus ligt op het via een cloud-omgeving ontlasten van IT-beheer, is het logisch dat een bedrijf de focus heeft op zijn businessmodel."
IT niet meer zelf doen
Kortom, juist bij iets dat voor elk bedrijf essentieel is geworden voor een goede bedrijfsvoering, moet je niet proberen om het zelf te doen. "Je gaat toch ook niet zelf kennis in huis halen over auto's voor je medewerkers? Leaseconstructies zijn doodnormaal. Goed werkende IT is nog veel belangrijker. Thuiswerkers hebben straks voor hun werk misschien geen auto meer nodig, maar wel een goede en veilige werkomgeving."
Als een IT-afdeling 80 procent van de tijd bezig is met IT-beheer, is er bijna geen tijd om IT te laten werken voor je organisatie, om innovatie te faciliteren. De cloud als distributiemodel maakt het veel makkelijker om IT uit te besteden, stelt Loeffen. "Er komen steeds meer diensten bijna letterlijk 'uit de muur' beschikbaar. Daarnaast maakt een overkoepelend cloud-platform, mits goed toegepast, het ook makkelijker om overal verspreide data te koppelen. Dat is hard nodig, want die data staat overal, vaak in silo's. En als je de toegang tot en het overzicht van je data niet op orde hebt, kun je ook geen goed geïnformeerde beslissingen nemen. Dan ga je vooral af op je buikgevoel of beleving."
Goed samenwerken, communiceren
Om mensen goed te laten samenwerken en te communiceren, zijn er steeds betere collaboration-oplossingen, stelt Loeffen. Om data voor je te laten werken en er je processen mee aan te sturen, moet die data ook goed kunnen samenwerken en communiceren. Dat is echter een uitdaging voor organisaties.
"Je hebt data in je ERP-systeem, in je CRM-systeem, in je HRM-systeem, je financiële systeem en in e-mail-toepassingen. Als die systemen niet goed op elkaar aansluiten, dan kunnen afzonderlijke processen misschien wel sneller worden, maar je bedrijfsvoering als geheel wordt langzamer omdat er geen totaalbeeld is."
Overzicht, inzicht
Om het gat te overbruggen, wordt er vaak houtje touwtje gewerkt. Met Excel-sheets of met apart gebouwde koppelingen die veel geld en veel onderhoud kosten. "Je hebt veelal losse toepassingen die ontzettend veel tijd kosten om te beheren en om er data uit te halen. Door daar een overkoepelend platform overheen te zetten, krijg je als organisatie het overzicht terug en kun je er de juiste inzichten uithalen."
Maar, benadrukt Loeffen, je moet als IT-aanbieder wel snappen dat bedrijven niet in één grote klap hun bestaande IT-omgeving kunnen vervangen. Dat betekent dat een overkoepelend platform moet werken met wat er is. Eshgro doet dat met Smarter 365. Op basis van de business-vereisten en -behoeften van een organisatie worden er als het ware 'stekkers' in de datasilo's gestopt. Zo kun je in ieder geval via een dashboard zien waar je belangrijkste KPI's zitten en waar het in je processen pijn doet, zodat je daar actie op kunt ondernemen.
AI maakt efficiënter
Kunstmatige intelligentie kan dan helpen om dit alles veel efficiënter te maken. Met behulp van AI-gebaseerde toepassingen kun je bijvoorbeeld geautomatiseerd data ophalen die voor bestaande of eventueel nieuwe processen nodig zijn, meent Loeffen. Dat kan allemaal zonder (direct) afscheid te nemen van het bestaande applicatielandschap.
"Alleen aan het begin en het einde van die processen moet je nog menselijke handelingen hebben. Alles daartussen kan 'gerobotiseerd' worden, mits de data transparant is. Daarvoor kun je kunstmatige intelligentie inzetten. Dat is echt nog geen wondermiddel, het gaat nog vooral om vrij platte patroonherkenning, machine learning. Het maakt weinig uit of het om factuurnummers gaat of om een schaakbord. AI is een hulpmiddel, geen doel. Maar het kan wel al die menselijke handelingen overnemen en je laten zien wat er in jouw organisatie gebeurt."
Roadmap
Elke organisatie is anders, er is geen eenmalige fix voor iedereen. "Je moet als IT-aanbieder met je klant een roadmap maken. Waar staat die klant, wat zijn diens doelen en wat wordt het pad daarnaartoe? Pas als je deze business requirements kent, kun je bepalen welke stekkers je waar in moet stoppen. Je wil iets fundamenteels oplossen dat daarna continu waarde blijft opleveren."
Dat betekent volgens Loeffen klein beginnen en voortdurend kijken of je op de goede weg zit. Geen big bang waarop je een half jaar later terugkomt. "Pak geen tien KPI's aan, maar begin er met een. Stop er eerst een stekker in. Werk toe naar een minimal viable product – mvp. Als dat werkt en voldoet aan wat een organisatie wil, weet je dat je op de goede weg zit om meer uit je applicaties, je data en je mensen te halen. Of je komt erachter dat je bottle necks ergens anders zitten dan waar je dacht. Wanneer je zo de basis op orde hebt, realtime inzicht hebt in je KPI's, in je processen en je klanten, kun je als organisatie waarde gaan creëren."
Consolidatieslag
De komende jaren zullen organisaties in elke sector hiermee aan de slag moeten, als ze dat nog niet doen. Want Loeffen verwacht dat – net zoals bij supermarkten en speciaalzaken ooit gebeurde – er straks vooral nog ruimte is voor twee soorten bedrijven: grote organisaties die breed actief zijn en kleine organisaties die in een niche hun toegevoegde waarde bieden. Deze consolidatieslag is al aan de gang en zal nog versnellen.
In beide gevallen moeten organisaties in staat zijn om snel op veranderlijke klantbehoeften in te kunnen spelen. Voor niche-organisaties is daarnaast persoonlijk maatwerk belangrijk, waarvoor je precies moet weten wat elke specifieke klant wil. Loeffen: "Dat vergt een IT-omgeving die je deze inzichten biedt. Je klantcontact is en blijft menselijk, maar alles daaronder gebeurt digitaal. Heb je dat niet goed voor elkaar, dan zul je op termijn niet meer kunnen meekomen en resteert overname of verdwijnen."