Specialisterren is een bijzonder bedrijf. Het biedt mensen met autisme een volwaardige baan in de IT, waar ze voorheen vaak afhankelijk waren van een uitkering. De afgelopen jaren heeft Specialisterren zijn sporen verdiend in het testen van software, onder meer voor de financiële sector. Sinds kort werkt het bedrijf ook samen met UiPath om klanten te helpen met Robotic Process Automation (RPA).
Sjoerd van der Maaden, oprichter en directeur van Specialisterren, heeft al een lange track record in de IT. Een column die zijn vrouw ooit schreef over het lesgeven aan hun jongste zoon, die een vorm van autisme heeft, vond enige jaren geleden enorm veel weerklank. Dat heeft uiteindelijk geleid tot de oprichting van Specialisterren vanuit de visie dat mensen met een vorm van autisme in de juiste setting hun talenten op een hele positieve manier kunnen waarmaken. Dus met een baan, economische onafhankelijkheid, en persoonlijke groei.
"In onze maatschappij gaven wij tot een jaar of tien geleden aan mensen met een afstand tot de arbeidsmarkt heel veel faciliteiten in termen van geld en resources", legt Van der Maaden uit. "Dat is enige tijd geleden gestopt. Het gevolg was onder meer dat mensen met autisme hun HBO- of een universitaire studie niet afmaakten, en vervolgens nergens terecht konden. Dit betekent dat, na een niet afgemaakte opleiding hun leven volledig in de 'wachtstand' schiet. Geen baan betekent geen inkomsten en geen opties om het leven op te pakken en vorm te geven. Daarom vinden wij die baan zo belangrijk."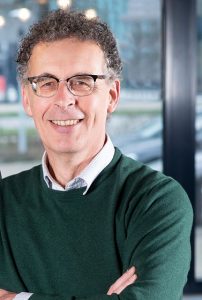 Sjoerd van der Maaden
Testen
Specialisterren biedt hen een passende werkplek. Commercieel directeur Ernst Kolvenbag: "We hebben op dit moment ruim veertig mensen met autisme in dienst, en wij maken er onze missie van om hen een vaste baan te geven. Dit bedrijf is gericht op 'impact first', we zijn een social enterprise, dat wil zeggen dat wij ook onze governance anders ingericht hebben. De maatschappelijke impact staat centraal."
Van der Maaden: "We hebben een economische doelstelling, we willen winstgevend zijn, want dan kunnen we groeien en hebben we autonomie. We zijn onafhankelijk van subsidies en donaties, we zijn gewoon een BV. Vooral op het gebied van softwaretesten hebben we de afgelopen jaren onze sporen wel verdiend, onder andere voor bedrijven in de financiële sector. Die willen in hun online- en mobiele omgevingen een degelijke implementatie hebben."
RPA
Vorig jaar is Specialisterren gaan nadenken over verbreden van de activiteiten. "In december afgelopen jaar raakte ik in gesprek met Sjoerd en Hein Masseling. de operationeel directeur. In dat eerste gesprek kwamen we eigenlijk al vrij snel op de nieuwe oriëntatie voor Specialisterren. Ik ben toen RPA gaan onderzoeken als mogelijke nieuwe dienst voor dit bedrijf."
Hij omschrijft het als een interessante ontdekkingstocht. "Wat mij al vrij snel opviel was dat de skillsset van mensen met een vorm van autisme goed past bij het bouwen van een robot. Dat was een belangrijke constatering. Vervolgens hebben we diverse gesprekken met leveranciers gehad, waaronder UiPath. Zij waren toevallig ook geïnteresseerd in testautomatisering. We hebben elkaar dan ook gevonden, en wij zijn de eerste partner in Nederland van UiPath die op beide vlakken gecertificeerd is en op beide vlakken actief is."

Ernst Kolvenbag
Chaos
Specialisterren is daarbij vooral bezig met testen, implementeren en bouwen. De contacten met klanten lopen in principe via diverse consultants waar Specialisterren mee samenwerkt. Kolvenbag: "De 'chaos aan de voorkant' is iets wat meer past bij het DNA van consultants. We zijn wel mensen aan het opleiden om ook aan die voorkant te kunnen werken. Maar we werken vooral samen met consultancypartijen tot en met het advies. Zij houden zich niet zelf bezig met bouwen, testen en onderhouden."
Kolvenbag heeft een duidelijke visie ontwikkeld op RPA. Nog steeds speelt rond robotisering de angst dat het banen kost, maar dat is volgens hem niet terecht: "Het gaat om processen en daarbinnen taakgebieden. En een taakgebied is geen volledige baan. In veel gevallen is het taakgebied saai en repetitief, en mensen besteden er liever niet teveel tijd aan. Dàt is het gebied waar wij ons op richten: het weghalen van de kwantitatieve tijd en dat teruggeven als kwalitatieve tijd aan mensen en de organisatie."
Werk
"Bovendien levert het bouwen van die robots juist werk op voor mensen die normaal gesproken afstand hebben tot de arbeidsmarkt, namelijk in ons geval mensen met een vorm van autisme. Robotisering zorgt dus ook voor 'social return', iets wat steeds meer bedrijven en organisaties belangrijk vinden." 
Op het gebied van RPA ziet Specialisterren ook kansen bij het opschalen. "Wat we in praktijk zien is dat er wel vaak snel een aantal prototypes draaien, maar als je die dan grootschaliger in productie wilt nemen wordt het lastiger. Daarvoor moet een infrastructuur ingericht worden, het moet onderhouden worden. En juist met dat onderhoud hebben we heel veel ervaring."
Bedrijfsprocessen
"Bij RPA is voor een aantal partijen het beeld ontstaan dat het toch niet zo simpel is als ze dachten. Er zijn heel veel mensen in staat om een bot te bouwen, want daar zijn uitstekende trainingsprogramma's voor. UiPath heeft een fantastische academy, en met een beetje intelligentie kun je die volbrengen. Maar het gaat uiteindelijk om automatisering van bedrijfsprocessen. En dan heb je met de IT-omgeving te maken, en met de IT-mensen. Daar komt meer bij kijken dan alleen de bot bouwen. Ik denk ook dat daar voor ons een enorme kans ligt omdat wij testautomatisering als achtergrond hebben, en die kennis combineren met RPA om bedrijven verder te helpen."
In België heeft Autimatic een vergelijkbare missie, door mensen met autisme als UiPath RPA developer in te zetten via partners als BDO en Robonext.
Fotografie Liesbeth Dinnissen