De opkomst van AI in zakelijke toepassingen is onstuitbaar, en nauw verbonden met ontwikkelingen rond cloud, edge en 5G. Zeker nu een nieuwe generatie de arbeidsmarkt overneemt verandert de manier waarop mensen met technologie omgaan. Waar AI in praktijk nu nog relatief beperkt wordt gebruikt, zal de innovatie in de nabije toekomst steeds sneller gaan.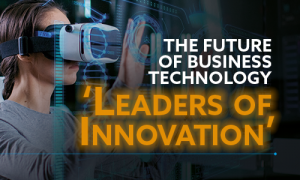 "Door de COVID-pandemie zijn de ontwikkelingen op het gebied van AI echt in een stroomversnelling gekomen", zegt Patrick van de Coolwijk, managing director Nederland bij Dell Technologies. "Veel bedrijven zijn het afgelopen jaar – vaak noodgedwongen – gaan nadenken over de vraag welke intelligentie zij konden toevoegen om nog competitiever te zijn in de markt. Heel veel gebeurt ineens online en remote en iedereen is het erover eens dat dat voor een groot deel een blijvende verandering is."
"Daarom denken veel bedrijven na over de vraag hoe zij werkplekken in een hybride vorm, dus zowel op kantoor als thuis, kunnen aanbieden. Zij vragen zich af hoe zij de ervaring van medewerkers en klanten kunnen verbeteren door ze flexibeler te bedienen; niet meer gebonden aan plaats en tijd. Onze klanten vragen concreet aan ons of wij hun medewerkers ook bij hen thuis in plaats van uitsluitend op kantoor kunnen servicen."
Algoritmes
"En omdat men minder mobiel is, is er ook behoefte aan meer predictive maintenance. Men wil bijvoorbeeld graag weten wat de staat van een laptop is, maar dat moet dan wel op afstand gemeten worden. Daar gebruiken we veel AI-algoritmes voor, die met de dag slimmer worden. Hierdoor zijn we steeds meer in staat om voorspellend te zijn."
Tegelijkertijd willen bedrijven hun klanten beter kunnen bedienen. "Daar is AI ook een prachtig hulpmiddel voor. Hierdoor ontstaat dan ook de behoefte om data minder centraal geclusterd op te slaan in grote databases, maar om de gegevens steeds meer in kleine bundels op te slaan vlak bij de plek waar je die daadwerkelijk wilt gebruiken. De mogelijkheden voor snel mobiel internet die 5G brengt versnellen deze ontwikkelingen enorm."
Onderzoek
"Uit onderzoek dat wij hebben uitgevoerd blijkt ook dat in 2024 het aantal applicaties dat data in the edge gebruikt met 800% zal zijn gestegen ten opzichte van nu. En ook 75% van de gebruikte infrastructuur zal dan op edge-locaties staan. Dit geeft aan dat klanten echt nadenken over de vraag hoe zij deze nieuwe technologieën goed kunnen gebruiken."
"Wat wij ook heel duidelijk zien is dat door het toegenomen belang van de cloud klanten onze oplossingen ook op een andere manier willen gaan consumeren. Klanten willen straks alleen nog maar betalen voor wat ze gebruiken en daar willen ze flexibel in kunnen zijn. Om die wens goed te kunnen ondersteunen maken wij ook steeds meer gebruik van AI en Machine Learning."
As a service
En tenslotte ziet hij de trend dat klanten zoveel mogelijk 'as a service' willen afnemen. "Iets verkopen is niet meer genoeg: je moet als leverancier ook zorgen dat hetgeen je verkocht hebt blijft werken en compatible blijft met andere producten en diensten. Klanten zijn ook bereid daarvoor te betalen. Onderliggend daaraan moet je ook gebruik maken van AI-technologieën. Ik zie die daarom nu echt een vogelvlucht nemen."
Op dit moment is volgens hem voorspellend kunnen zijn een belangrijke wens, en wordt predictive analysis dus het meest toegepast. "Maar in de toekomst zullen heel veel beslissingen die nu nog door ons als mensen genomen worden, worden overgenomen door kunstmatige intelligentie. En ook zullen uiteindelijk handmatig repeterende werkzaamheden vervangen worden door gerobotiseerde processen."
Ethiek
De opkomst van robotics roept regelmatig vragen op over ethiek. "Veel bedrijven worstelen met de dilemma's, en vragen zich af hoever ze moeten gaan met de inzet van AI. Wat laat je wel en wat laat je niet over aan de computer? Wat zijn de privacy-aspecten? Die vragen komen eigenlijk bij elk gesprek dat wij met klanten voeren over AI wel op tafel. En het is ook lastig, omdat de wetgeving op dit punt nog volop in ontwikkeling is."
De opkomst van AI en robotics gaat gelijk op met de komst van een nieuwe generatie. "Jonge medewerkers zijn als consument al gewend om te gaan met dergelijke technologie. Ik denk dat er sprake is van een natuurlijk proces. Zij hebben veel minder moeite om hiermee om te gaan, dan mensen die al wat langer in het arbeidsproces zitten. En dat geldt trouwens ook voor de ethische aspecten waar we het net over hadden. Jongeren lijken zich veel minder zorgen te maken over de vraag wat er met hun data gebeurt en daardoor nemen ze ook een heel andere positie in die hele ethische discussie in."
Innovatie
Innovatie begint volgens hem altijd met het besef dat verandering nodig is om competitief te blijven. "En wanneer dat besef er is volgt al heel snel de ambitie om agile te zijn en meer gebruik te maken van de cloud. Daarom is het eerste gesprek dat wij met klanten hebben altijd een soort van nulmeting, waarin we gezamenlijk bepalen waar de organisatie nu staat en waar zij naar toe willen. Op basis daarvan kunnen we dan samen een journey bepalen."
"Hoe die journey eruitziet is verschillend per bedrijf, en dat heeft vooral te maken met de hoeveelheid legacy die zij hebben. Hoe minder legacy, hoe wendbaarder een organisatie is. Maar het is wel duidelijk dat alle organisatie hier nu echt over moeten nadenken. Als ze dat nog niet gedaan hebben, zijn ze eigenlijk al te laat. Maar in de afgelopen anderhalf jaar zien we wel dat het overgrote deel van de bedrijven zich bewust is van het feit dat ze een cloud strategie moeten hebben en ze moeten nadenken over de impact van 5G op het gebruik van sensoren en data.
Security
Zelf maakt Dell ook al volop gebruik van AI: "AI-engines zijn ingebouwd in al onze security- oplossingen, maar ze zitten ook in onze datacenter oplossingen. Bij de ontwikkeling van nieuwe infrastructuren en producten maken we volop gebruik van AI. We kunnen daarmee een enorme versnelling aanbrengen in het ontwikkelproces. Software wordt tegenwoordig niet meer ontwikkeld door handmatig code in te kloppen, maar wordt vaak geautomatiseerd ontwikkeld door andere software."
"In die zin worden wij als organisatie ook steeds meer een softwarebedrijf. En dat heeft ook te maken met de wijze waarop wij onze producten en diensten in de markt willen zetten en hoe wij met onze klanten willen communiceren. Wij willen graag dat een bedrijf op een cloud-gebaseerde manier zelf kan bepalen hoeveel bandbreedte, storage en rekencapaciteit zij nodig hebben. En om ze daartoe in staat te stellen, bieden wij dan apps. Wat dat betreft zijn wij als bedrijf ook constant in ontwikkeling."