In twee uur tijd rijdt robot Tally het filiaal van Decathlon in San Francisco door, om de volledige voorraad te tellen. Dit elimineert volgens Decathlon veel saai en routinematig werk, dat medewerkers anders handmatig zouden moeten uitvoeren: dat duurt langer, en is minder accuraat. Deze robot is onderdeel van een geheel nieuw opgezette infrastructuur met software van MuleSoft/Salesforce.
Bijna alle producten in de winkel, nu 98 procent, zijn voorzien van RFID-tag. Tally kan de signalen van deze RFID-tags opvangen om de voorraad te tellen. Daarnaast is de robot voorzien van visuele functionaliteit, om te kunnen zien of er bijvoorbeeld lege schappen zijn. In dat geval krijgt een van de medewerkers het verzoek om dat schap bij te vullen.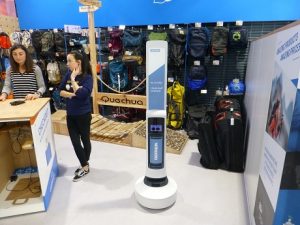 Communiceren
Ook kan de robot zien of er producten op de verkeerde plek liggen, iets wat regelmatig voorkomt als klanten zelf de producten terugleggen, of als kinderen ermee hebben gespeeld. De klanten vinden Tally volgens Decathlon een vermakelijk onderdeel van de winkel. Zelf kunnen ze er niet mee communiceren.
Greenfield
De winkel van Decathlon op Mission Street in San Francisco is relatief nieuw, en is gebouwd met een volledig nieuwe infrastructuur. Dit filiaal van de sport-retailketen is het eerste van de wereldwijd 1.600 winkels in 55 landen waar deze infrastructuur is neergezet. Naast de in-store robot Tally voor de inventaris gaat het om point of sales software, cashloos betalen en order management. De lijm die al deze afzonderlijke applicaties verbindt is het Any Point platform van MuleSoft, onderdeel van Salesforce. Decathlon claimt hiermee een connected customer experience te kunnen bieden.
Robot binnen een dag
Tony Leon, CIO en CTO bij Decathlon USA: "San Francisco is een van de meest innovatieve gebieden ter wereld. Het grote voordeel is dat we hier alle technologiebedrijven dichtbij hebben zitten. Dat merkten we ook bij het opzetten van deze winkel. Toen we gingen praten over de mogelijkheden van een robot konden we gelijk de volgende dag een testexemplaar neerzetten in de winkel."
Retail en ecommerce
Hij vervolgt: "Decathlon is veertig jaar gelden opgericht in Frankrijk als retailer, in een tijd dat er nog geen ecommerce was. Dat is in de loop der tijd natuurlijk helemaal veranderd. Toen we in 2016 onze winkel in de Verenigde Staten gingen opzetten was onze visie dan ook dat we zowel retail als ecommerce wilden doen. Maar alle afzonderlijke systemen die in de loop der jaren zijn neergezet in de organisatie waren daar niet op berekend."
API's
Decathlon USA moest dus op zoek naar een oplossing om die systemen effectief met elkaar te verbinden. Daarvoor kwam de retailer uit bij het Anypoint Platform van Salesforce-dochter MuleSoft, zodat met behulp van API's alle relevante systemen en processen met elkaar verbonden konden worden. Uiteindelijk konden hiermee de fysieke en digitale omgeving worden samengevoegd, om de Amerikaanse klanten daadwerkelijk omnichannel te kunnen bedienen. Het is de bedoeling om deze oplossing later ook naar andere landen uit te breiden.