AI verandert en drijft innovatie in werk, vertelt Vicky Bunyard, de CTO van IBM Benelux. Daarmee bedoelt ze echter niet alleen het werk van de IT'ers en data-analisten die veelal nadenken over verregaande automatisering met AI. Ze bedoelt het werk van alle medewerkers. 'Bijvoorbeeld: gebaseerd op mijn functie en mijn wensen, welke cursus is nu interessant voor mij om te groeien? AI kan het antwoord geven.'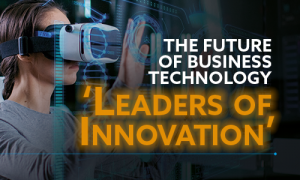 Big data, data gedreven, business analytics: onze bedrijven worden alweer enige jaren gedreven en geleid door data. Nu is het tijd om de volgende stap te zetten naar artificial intelligence (AI), zodat de informatie nog meer inzichten gaat opleveren, vertelt Vicky Bunyard, CTO bij IBM Benelux. 'Data was het antwoord op alles, maar nu moeten we de waarde die data brengt opschalen en dat doen we met AI.'
Het creëren van vrijheid voor de mens met AI
Sommige bedrijven zitten nog in die eerste fase van AI en kijken hoe AI hun inzichten naar een hoger niveau kan tillen. De tweede fase is het vergroten van effectiviteit van het bedrijf door meer processen te automatiseren met AI. De laatste fase draait om de mens, want AI, zo vertelt Bunyard, draait niet alleen om automatiseren en efficiëntie van processen, maar ook om het creëren van vrijheid voor de mens.
Bunyard: 'AI verandert en drijft innovatie in werk. Het hele AI-vraagstuk gaat over de vraag: hoe kan ik de mens versterken? AI zorgt ervoor dat de machine het repetitieve werk doet en wij het meer intelligente werk. Wat we bij klanten zien, is hoe ze bijvoorbeeld de leerervaring kunnen optimaliseren met AI. Gezien mijn huidige rol en ambitie, en de behoeften van de organisatie, hoe kan ik groeien? AI kan het antwoord geven.'
De beste manier van beginnen met AI is beginnen
In welke fase bedrijven ook zitten, als ze willen beginnen met het verbeteren van data-inzichten, operationele processen of het werk van de mens, heeft Bunyard duidelijk advies: begin. 'De beste manier om met AI te beginnen is te beginnen. Er zijn zoveel tools beschikbaar waarmee je vandaag al kan experimenteren met AI. Zo ontdek je wat AI kan en welke businessproblemen het kan tackelen.'
'Maar waar bedrijven die al wat verder zijn, tegenaanlopen is het in operatie brengen van AI. Ze hebben met traditionele DevOps al gewerkt met het operationaliseren van technologie, maar met AI werkt het toch anders. AIops gaat om een mindsetverandering. Je moet begrijpen wat de modellen doen, hoe de trainingsdata eruitziet en hoe die verandert door de tijd heen, hoe de feedbackloop eruitziet en hoe je je modellen beheert.'
Welke aanvullende beveiliging heb ik nodig voor AI?
'Plus: als AI eenmaal operationeel is, moet je transparantie, overzicht en governance behouden over de modellen én de data. Ook moet je anders nadenken over beveiliging: heb je bijvoorbeeld een hoger beveiligingsniveau nodig omdat je met gevoelige data werkt? En welke aanvullende beveiligingsmaatregelen heb je nodig om ook de uitkomsten van AI te beschermen? Maar je moet ook continu zorgen dat de datakwaliteit op orde blijft.'
Waar bedrijven ook over na moeten denken, is de vooroordelen die eventueel verborgen zitten in de modellen. 'We moeten nadenken over welke data we gebruiken, welke analyses we gebruiken en of we een goede ethische beslissing maken. Is dit een eerlijk model? Of zitten er ongelukkige beslissingen in die een negatieve impact op mensen hebben? Je moet daarover nadenken. Daarom spreken we bij IBM steeds vaker over 'responsible computing.'
Maak een AI-roadmap
AI klinkt misschien een beetje overweldigd. Het heeft grote potentie, maar er zitten meer afhankelijkheden en gevoeligheden in. Daarom doen bedrijven er goed aan om een roadmap te maken, aldus Bunyard. 'Bedrijven hebben het gevoel dat ze alles nu moeten doen. Daarom is het goed om na te denken over AI met een langere termijn-aanpak. Maak een roadmap met wat je wanneer gaat doen, zodat je projecten waarmee je nu het meest behaald eerst doet.'
Eén van de projecten waar bedrijven steeds vaker aan beginnen, is het automatiseren van IT-operatie, vertelt Bunyard. 'Je ziet nu dat AI wordt gebruikt voor het monitoren en actief opereren als iets misgaat. Infrastructure as code, maar dan on steroids.' Als dat is gerealiseerd, kan tijd worden vrijgemaakt voor het oplossen van businessproblemen. Zoals het aanraden van cursussen om je carrière een boost te geven.
Technologie wordt gedemocratiseerd
Zou HR of andere businessgebruikers dan een rol moeten spelen in AI? Ja, zegt Bunyard, eigenlijk zou iedereen in het bedrijf bezig moeten zijn met AI. 'We bewegen weg van een monolithisch systeem, waarbij IT in de kelder zat en alleen bij uitzondering naar bovenkwam. Nu zie je dat bedrijven technologie democratiseren. Iedereen kan ideeën aanbrengen om hun problemen op te lossen als ze weten wat allemaal kan met technologie.'
De volgende stap in het democratiseren van technologie is het aanbieden van AI-functionaliteiten aan de voorkant in businessapps die medewerkers al gebruiken. 'Dat is bijvoorbeeld onderdeel van Watson voor AIops. AI wordt daarmee beschikbaar gemaakt in de businessomgeving van de gebruiker, zoals in je Slack-kanalen. De achterkant wordt dus meer geavanceerd en de voorkant ontmoet je in jouw wereld.'