Een geavanceerde robotarm is meer dan alleen mooie technologie. Gebruik van zo'n prothese is niet alleen bevestigen, zo leert een gesprek met Arie Rommers. Hij maakt al enige tijd gebruik van een bionische arm, de Bebionic. "Je kunt wel een heel mooie bionische arm krijgen, maar je hersenen moeten hem besturen, dus je moet goed in je vel zitten"
10 september 1976 half zes is een moment dat Arie Rommers nooit meer vergeet. Toen ging een explosief af in zijn hand, waar hij als kind mee speelde op zijn kamer. Hierbij verloor hij zijn hand. Vanaf die tijd heeft hij veel verschillende prothesen gehad, te beginnen met primitieve kunsthanden. Tegenwoordig is hij een van de gebruikers van de meest geavanceerde bionische hand, de Bebionic van het Duitse Ottobock.
Zelf robotica
"Je bent voor een deel zelf robotica geworden, of bionisch", zegt hij. En relativerend: "Aan de andere kant is een groot deel van Nederland ondertussen bionisch geworden met zaken als lenzen, knieën en pacemakers. Ik ben daar heel blij mee, maar tegelijkertijd ben ik er ook van afhankelijk. Ik kan wel een haak krijgen of een soort poppenhand, maar daarmee krijg je je fantoomhand niet terug. Want je voelt nog wel ja handen, je vingers, je nagels. Met een robothand zie je de vingers die je gewoon nog voelt weer echt bewegen. Het wordt een deel van je eigen lichaam."
Pittige training
De bionische hand van Ottobock is niet zomaar een prothese die even wordt aangebracht. "Wanneer je zo'n prothese aanvraagt krijg je een pittige training in een revalidatiecentrum, waarbij gekeken wordt of je zo'n hand in bruikleen mag krijgen voor een aantal jaar." Bij dat traject hoort ook een intensief psychologisch traject, omdat veel mensen van wie een ledemaat geamputeerd is ook daar hulp bij nodig heeft.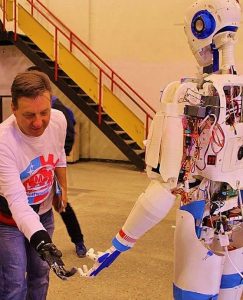 Trauma
Dat gold ook voor Rommers: "Ik werd door die training weer geconfronteerd met het trauma uit mijn kindertijd, toen ik mijn hand verloor. Ik kreeg daardoor nachtmerries. Dat is vervolgens aangepakt met EMDR therapie. Bij die therapie leerde ik mezelf vergeven dat ik met iets gevaarlijks speelde, een kinderbrein werkt nu eenmaal anders dan dat van een volwassen persoon, en kinderen kunnen vaak gevaren minder goed inschatten. Ook dat hoort bij revalideren, want je kunt wel een heel mooie bionische arm krijgen, maar je hersenen moeten hem besturen, dus je moet goed in je vel zitten."
Topsport
Hij vervolgt: "Een bionische arm dragen is topsport. Ik ben niet voor niets gaan fietsen en kickboksen. Overigens dan wel met een andere prothese, de robotarm zou anders kapot gaan. Ik ben er in positieve zin door veranderd. En de schaamte is weg, die je vroeger nog wel voelde. Tegenwoordig is het heel normaal om te laten zien dat je een arm mist, terwijl dat vroeger veel meer werd weggestopt. In die zin is ook de acceptatie door de maatschappij veranderd."
Reacties
Hij krijgt overwegend positieve reacties, met name van kinderen op straat. "Die laat ik dan zien hoe zo'n robothand werkt. Soms hoor je dan: 'Ik wil ook zo'n hand!' Negatieve reacties zijn er ook, maar die komen vooral anoniem binnen via social media. Want ik heb wel gemerkt dat sommige mensen het leuk vinden om grapjes te maken over handicaps, maar daar moet je boven staan."
Vrijer
"Ik ben voor het vrije woord, maar doe dat dan wel waar de mensen zelf bij zijn." Hij geeft daarom ook lezingen op scholen. "Met behulp van die robotica kan ik dan vertellen dat ook scholieren die anders zijn zich niet hoeven schamen voor wie ze zijn, en dat ze trots moeten zijn op wie zij zijn. Ook daarom is sport belangrijk, dat verbroedert. Zelf ben heel blij met die robotarm, het is een deel van mij geworden. Ik ben door robotica vrijer geworden, het heeft me veranderd."