De Europese Unie stelt ruim 800.000, – euro subsidie beschikbaar voor het "Smart City Monitor" project. De subsidie wordt beschikbaar gesteld aan zes partijen uit bedrijfsleven, overheid en onderwijs. De Smart City Monitor geeft in een digitale tweeling van de stad meer inzicht in bezoekers- en verkeersstromen in de binnenstad. De ontwikkeling van dashboard is een samenwerking tussen de gemeente Den Bosch, gemeente Breda, Jheronimus Academy of Data Science, Breda University of Applied Sciences, Argaleo en Geodan.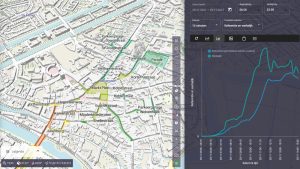 Naast inzicht in bezoekers- en verkeersstromen geeft de monitor ook data over bijvoorbeeld de luchtkwaliteit en de beleving van bezoekers. Op deze manier worden verschillende data aan elkaar gekoppeld in een zogenaamde digital twin van de stad. Dat levert belangrijke informatie op om voorspellingen te doen en om met passende oplossingen te komen. Denk bijvoorbeeld aan slimme bevoorrading, duurzaam vervoer en verdere vergroening. Of aan ondernemers die hun planning en marketing kunnen afstemmen op voorspelde drukte. Inzicht in verblijfsduur en verplaatsingen helpt ook om knelpunten in bijvoorbeeld veel gebruikte fiets- en autoroutes op te lossen, of om evenementen meer te verspreiden over ruimte en tijd.
"Met deze EU-subsidie kunnen we verdere stappen zetten om data op een slimme manier toe te passen in onze stad. Dat doen we niet alleen. We werken samen met partners aan een gezonde en vitale binnenstad. Ik ben daar trots op. Samen met het onderwijs en bedrijfsleven kunnen we de onderlinge kennis vergroten en tot innovatieve oplossingen komen voor de uitdagingen van vandaag en morgen." Aldus Jan Hoskam, Wethouder 's-Hertogenbosch.