De Italiaanse-Nederlandse tech startup Kotuko heeft een corona 'Safety Check' geïntroduceerd in Europa. Safety Check scant de lichaamstemperatuur van bezoekers en medewerkers bij binnenkomst van een locatie. Ook geeft een persoonlijke tracer een waarschuwingssignaal in geval van te weinig afstand houden. Met behulp van AI wordt geprobeerd mensen zoveel mogelijk te verspreiden in de betreffende ruimte.
De 'Safety Check' is een 'techdriven' oplossing voor social distancing en maakt een veilige toegang tot publieke ruimtes mogelijk. Door de tracer op te nemen in de COVID protocollen van bedrijven, productievoorzieningen en fabrieksruimtes, kunnen preventieve maatregelen beter worden nageleefd. Ook hotels, evenementenorganisaties en overheden tonen interesse in de Safety Check.
Door de komst van deze check is het mogelijk preventief te handelen door een temperatuurscan en door het geven van een tril en/of geluidssignaal bij een te grote nabijheid van andere mensen. Ook is in het geval van een besmetting door het corona virus de bron snel te achterhalen, zodat verdere besmetting voorkomen kan worden.
Werkwijze
Bij binnenkomst melden medewerkers/bezoekers zich aan en kunnen de temperatuur laten opnemen middels een Termo Scanner (met gezichtsherkenning). Daarna ontvangen ze een tracer die kan signaleren en waarschuwen wanneer mensen te dichtbij bij elkaar staan (<1,5 meter).
AI
De meegeleverde scanner gebruikt AI om de van te voren geüploade foto's aan gezichten die voor de scanner staan te koppelen. Het overliggende systeem, gekoppeld aan de bijbehorende mobiele app heeft een meer uitgebreide vorm van AI.  Met de mobiele apps van de gebruikers kunnen namelijk real time heat maps gemaakt worden op basis van in- of outdoor navigatie data. De AI kan op basis van deze heatmaps een signaal geven aan de gekoppelde app op de telefoon van de gebruiker, om hem te waarschuwen als hij richting een drukke (rode of oranje) zone loopt. De AI probeert gebruikers zoveel mogelijk richting groen of geel (rustige zones) te laten bewegen.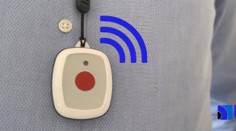 Alle alarmgebeurtenissen (via LED, geluid of trilling), inclusief tijdsstempe,l worden opgeslagen.
Hierdoor is meteen inzichtelijk;
-wie een eventuele ziektebron is
-welke bewegingen in een omgeving plaatsvinden. Bij drukte op vaste plekken kan de routing bijvoorbeeld worden aangepast
Bij een geval van besmetting is de traceerbaarheid van contacten 100%.
Fase 1 en 2
De pandemie, veroorzaakt door het COVID-19-virus, heeft zware en aanzienlijke gevolgen gehad voor bedrijven en werknemers. FASE 1 was de sluiting van een aantal sectoren en bedrijven en er werd slim gewerkt waar mogelijk.
Onlangs is FASE 2 ingezet, en deze voorziet in de geleidelijke hervatting van activiteiten op de werkplek. Noodzakelijkerwijs zullen maatregelen genomen moeten worden om de verspreiding van het COVID-19-virus op de werkplek te bestrijden en in te dammen.
Veel bedrijven en instanties zijn op dit moment aan het bekijken hoe ze de werkzaamheden kunnen hervatten en krijgen te maken met infrastructurele aanpassingen, een nieuw organisatiemodel en digitaal procesbeheer. Veiligheid van de medewerkers, klanten en bezoekers moet hierbij gegarandeerd kunnen worden.
Privacy
In Nederland is een verplichte temperatuurscan niet toegestaan. Op grond van de AVG is het verboden om de temperatuur op te nemen bij werknemers. Het meten van iemands lichaamstemperatuur is in principe een verwerking van persoonsgegevens.
Ook in het geval van bezoekers is dit verboden.
In andere EU lidstaten zoals Spanje en Italië mogen wel temperatuurscans worden uitgevoerd. Nederland (en ook België) verschillen hier dus in wetgeving van veel andere landen.
Werknemers en bezoekers in Nederland kunnen een dergelijke scan alleen doen op basis van vrijwilligheid. Het Nederlands/Italiaanse bedrijf Kotuko verwacht dat minder mensen hier moeite mee zullen hebben vanwege de uitzonderlijke situatie. De organisatie heeft privacy hoog in het vaandel staan en verwerkt gegevens volgens de AVG wetgeving.
Andere wetgeving
Kotuko is van mening dat de pandemie om andere wetgeving vraagt. Oscar Bout, Country Manager Nederland van Kotuko, "Het zijn andere tijden en die vragen om een andere aanpak. In andere Europese landen begrijpen ze dat heel goed. Zie hoeveel technologie ons tot op heden heeft geholpen om de gevolgen van deze crisis te onderdrukken. Online shopping, video conferencing, thuiswerken in de cloud. Allemaal zaken die ervoor gezorgd hebben dat we verder kunnen. Op het moment dat iemand koorts heeft, dan wil je dat toch weten om erger te voorkomen? En op het moment dat je merkt dat 1,5 meter afstand op bepaalde plekken binnen je organisatie niet werkt, dan wil je dat toch kunnen aanpassen door bijvoorbeeld dat deel af te sluiten?"