Prototypes maken, experimenteren en valideren. Dat is waar startup TechTics van Martijn Lukaart en Edwin Bos zich mee bezighoudt. In opdracht van organisaties die de kansen van bijvoorbeeld robotica, kunstmatige intelligentie en virtual reality willen ontdekken, en met eigen ideeën. Zo werken zij zelf op dit moment aan robots die zwerfafval monitoren en opruimen.
Met hun BeachBot en MAPP robots hebben zij al een aantal succesvolle demo's achter de rug voor het opruimen en monitoren van zwerfafval, onder meer in het Living lab Scheveningen. "We staan daarmee pas aan het begin", vertelt Bos, "maar we zien kansen om met onze clean-tech een goed business-model te bouwen bij de aanpak van dit grote, wereldwijde milieu- en maatschappelijk probleem."
Een achtergrond in robotica had Bos niet. Zijn werkzaamheden betroffen veelal het onderwerp PR en duurzaamheid, onder meer in functies bij Orange en KPN. Nog altijd ligt zijn passie bij dit onderwerp en helpt hij meerdere organisaties al jaren op dit gebied. Toen hij in contact kwam met mede-entrepreneur Martijn Lukaart, die onder meer actief is op technologievlakken zoals AI en robotica, was de link met duurzaam ondernemerschap snel gelegd. "Samen zijn we met TechTics van start gegaan, om te onderzoeken welke mogelijkheden er waren om nieuwe technologie in te zetten voor duurzaamheid: Tech for Good dus. De BeachBot was ons eerste idee toen we bij het onderwerp van zwerfafval uitkwamen. Een complexe uitdaging die alleen maar groter wordt."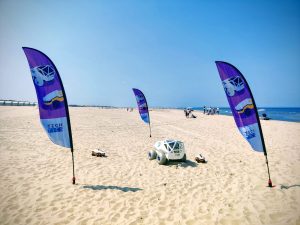 Samen met een Minor Robotics team van de TU Delft hebben we een eerste prototype ontwikkeld. Met die eerste BeachBot had TechTics iets concreets in handen om de visie op duurzaamheid en technologie uit te dragen, vertelt Bos. "We hebben het afgelopen jaar veel tijd besteed aan het verkrijgen van inzicht in het probleem van zwerfafval op stranden. Omdat we al een prototype van een robot hadden voor de aanpak van zwerfafval, konden we ons idee in de praktijk uitdragen en feedback ophalen."
Financiering
Veel partijen toonden belangstelling, waaronder de gemeente Den Haag. Zij ondersteunde TechTics vorig jaar met een subsidie als onderdeel van 'Smart City' Den Haag. "Bij de lancering van het Living Lab Scheveningen hebben wij een demo gegeven om zo samen met de gemeente de discussie op gang te brengen over robotica in de publieke ruimte."
Andere partijen die met financiering ondersteunden, waren het Rabobank Innovatiefonds en de Green Deal Schone Stranden (nu het Programma Schone Stranden). Ook won TechTics een prijs bij de Young Plastic Pollution Challenge van de Plastic Soup foundation.
"Zo konden we het project stapje voor stapje naar een volgend niveau brengen. Bij World Cleanup day in 2020 demonstreerden we dat de BeachBot zwerfafval kon herkennen en deels kon grijpen, waaronder een aantal sigarettenpeuken. Dat toonde aan dat het concept werkte. Daarna hebben we twee mapping robots gemaakt, genaamd MAPP, die zich op monitoring richten. Wat ze zien, sturen ze door naar nu nog een beta-versie van een web-app. Het publiek kan dan zien wat de robot ziet aan zwerfafval en kan helpen om het detectie-algoritme te verbeteren door een label toe te voegen. Dit hebben we afgelopen zomer gedemonstreerd tijdens de Beach Cleanup Tour van onze partner Stichting de Noordzee."
Rol van design
Design speelt een rol bij hoe de eerste robots ontvangen werden, vertelt Bos. Met dank aan de ontwerper heeft de eerste BeachBot een spannend uiterlijk gekregen, ietwat vergelijkbaar met hoe een verkenningsvoertuig voor de maan of Mars eruit zou zien. Een saaier uiterlijk had volgens Bos veel minder aandacht gekregen van mensen en media.
"Je krijgt ook meteen kritische vragen, zoals over de hufterproofheid, de trage snelheid. Dat zijn vragen die we ook wij hebben. Alles is nog pril, het gaat echt om te kijken wat werkt. Die validatiefase is erg boeiend."
Vanaf het begin was er veel persaandacht, die als een vliegwiel werkte. "Dankzij alle reacties die volgden, kunnen we ook beter in kaart krijgen wat wel of niet aanslaat en waar een echt business model mee opgebouwd kan worden. Zo weten we dat Rijkswaterstaat jaarlijks 7.500 keer landelijk de ontwikkeling van zwerfafval monitort. Onze robots kunnen daarin op termijn ondersteunen. En zo zijn er nog meer organisaties waar dit interessant voor is. Denk bijvoorbeeld aan het keurmerk Blauwe Vlag, dat wereldwijd gebruikt wordt voor schone stranden. Volgend jaar zouden we graag in een pilot een keuring door een robot laten doen in plaats van door mensen."
Robot niet dé oplossing
Bos benadrukt dat een puur robotische oplossing niet heilzaam zal zijn. "Eigenlijk ligt het probleem natuurlijk bij de mensen zelf. In de interactie met bijvoorbeeld monitoringrobots zou je hen aan het denken kunnen zetten over waar ze mee bezig zijn en zo bijdragen om het onderwerp zwerfafval bij de bron aan te pakken. Maar feit is dat zwerfafval nú een probleem is. Samenwerking met partijen zoals Rijkswaterstaat of Blauwe Vlag kan een bijdrage leveren om dat probleem ook op korte termijn beter inzichtelijk te krijgen en aan te pakken."
Of dit echt een nieuwe markt gaat worden? "Er ligt zeker een kans", meent Bos. "Ook internationaal is er aandacht voor geweest vanuit de media, die geleid heeft tot aanvragen vanuit onder meer Israël en de Malediven. Voor bijvoorbeeld demo's, zowel op het gebied van monitoring als opruimen. Ik denk dat er echt een markt voor is om de menselijke monitoring aan te vullen met of deels te laten vervangen door robots. We hebben er ook al enige bewijs voor dat dit kan werken."
Zoektocht
Maar voorlopig blijft de vertaling van theorie naar grootschalige praktijk nog een zoektocht. Bos: "Met alle belangstellende partijen, binnen en buiten Nederland, hebben we nog een lange weg af te leggen. Bijvoorbeeld om te kijken welk soort robot voor welk soort strand het meest geschikt is. Als het om een druk strand gaat, moet zo'n robot echt hufterproof zijn, en moeten we voldoen aan allerlei privacy-regels. Maar als het zoals op de Malediven gaat om een vrijwel verlaten stuk strand met vooral aangespoeld afval, dan speelt dat weer veel minder een rol. We moeten nu dus vanuit een heel breed concept gaan toewerken naar praktische markttoepassingen voor specifieke uitdagingen."
En die uitdagingen zijn er genoeg. Zelfs op de relatief schone Nederlandse stranden ligt veel afval. Bij de eerste demodag afgelopen zomer op het strand van Renesse vonden de 70-80 vrijwilligers van Stichting de Noordzee in vier uur tijd bijvoorbeeld meer dan 3.000 peuken, schetst Bos. En de grote schoonmaakmachines nemen dit soort klein afval niet mee. Gemeentevrijwilligers kunnen het ook niet allemaal opruimen.
"Ik denk dat we er niet aan ontkomen om óf menselijk gedrag te veranderen, óf technologie in te zetten, óf – zoals in ons geval – naar een combinatie te streven. En dat resoneert zeker: de aanpak van een groot maatschappelijk probleem met mens-robot interactie."
Peukenalgoritme
Op technisch gebied waren en zijn er ook drempels. Herkenning en opruimen gaat voor een robot bijvoorbeeld niet vanzelf. Daarom werd met het team van de TU Delft voor het eerste prototype van de BeachBot een 'peukenalgoritme' gemaakt, dat aan de hand van een groot aantal foto's leerde herkennen wat een sigarettenpeuk was.
"Het algoritme kan nu met 60-70 procent zekerheid een peuk herkennen, dus er zijn nog veel extra foto's nodig om dat te verbeteren. Bij de MAPP robots hebben experts van AI Lab One ons geholpen om die training te upgraden. Dus bij latere demo's ging het herkennen al veel beter. Met behulp van mensen die via de web-app meewerken en met andere externe partijen werken we er ook hard aan om die herkenning naar het punt te brengen dat minimaal nodig is om in de praktijk goed te werken. Voor peuken, maar ook bijvoorbeeld blikjes en klein plastic afval."
Verder beschikt de BeachBot nu nog over een wat fragiele 'kermisgrijparm'. "Het werkt, maar gaat nog traag. Dat moet verfijnder, sneller en idealiter ook tele-operated, zodat een mens op afstand kan ingrijpen en bijsturen. We gaan nu met SenseGlove uit Delft onderzoeken hoe we dat in de praktijk werkend krijgen."Bij een volgende demo denkt Bos  aan gemeentemedewerkers die op afstand kunnen meekijken met de robot via een VR-bril en een 360-graden camera om zo op specifiek afval te lokaliseren en op te pakken, bijvoorbeeld voor sampling.
Lange adem
Om van de experimenteer- en valideerfase naar operationele robotmodellen voor specifieke taken gaan, is een kwestie van lange adem. Toch hoopt Bos, na pilots begin volgend jaar, eind 2022 in ieder geval een operationeel model van de MAPP robot te hebben.
"Financiering blijft belangrijk. Er moet wel enige zekerheid zijn dat er partijen zijn die een succesvolle MAPP robot willen afnemen. Daar willen we naartoe werken. Wat dat betreft kijken we ook verder dan het strand, want zwerfafval ligt overal. Parken, bedrijventerreinen, noem maar op. Er zijn kansen genoeg. Maar eerst moet er een goed werkend model zijn voor één segment, voordat we de bredere markt op gaan zoeken."